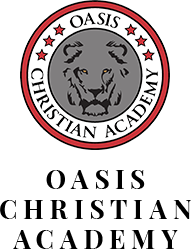 Our ultimate goal is to focus on the heart of our students. To assist them in maintaining this Biblical emphasis and to serve the establishment of an orderly learning environment, a dress code has been established. It has three guiding principles: safety, modesty, and appropriateness for the event. All dress code rules have been run through this filter. With this in mind, our dress code encourages students to show their originality and express who they are within the dress code's guidelines. The dress code applies to students when school is in session on the school campuses from 7:00 AM to 5:30 PM and at school-sponsored functions. Please know that the heart behind the entire dress policy is to have students neatly and normally dressed in order to take the focus off clothing and on to more important things, such as the Lord and what He has planned for them each day at Oasis.
Dress Codes- 2023-2024
Spirit Wear Links
OCA polos can also be purchased independently and embroidered at Progressive Printers.
PE Uniforms (required for 6th-8th grades and any 9th-12th students enrolled in PE or Weightlifting)
Calendar
S

unday

M

onday

T

uesday

W

ednesday

T

hursday

F

riday

S

aturday