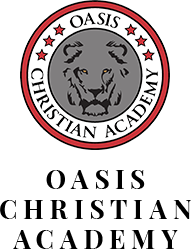 Oasis Christian Academy takes pride in providing a challenging educational program that supports the growth and development of the whole student. From K3 through 12th grade, students participate in a traditional classroom setting that is differentiated for each learner.
As a faith community, we teach, value, and embrace the tenets of our Christian faith while encouraging students to live the Gospel message. Daily Bible classes, weekly chapels, and school-wide prayer experiences provide the foundation for our faith journey.
Enrichment opportunities are provided throughout our academy. Elementary students participate weekly in PE, computer, library, music, Spanish, and art (in addition to chapel). Middle school students participate in PE multiple times a week, utilizes our iPads regularly in the classroom, and also participate weekly in digital literacy and drama electives. High school students have multiple elective academies to choose from to begin exploring post-high school educational options and careers. Our school Guidance Program helps students and their families meet everyday challenges by providing them with life skills and community-building experiences. Starting in the fall of freshman year students meet regularly with our guidance counselor to ensure they remain on course for life after OCA ready to impact the world for Christ.
S

unday

M

onday

T

uesday

W

ednesday

T

hursday

F

riday

S

aturday