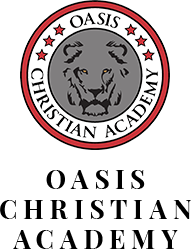 Financial Aid Information
At Oasis Christian Academy, we make every effort to make an exceptional Christian education attainable for every family. OCA does have a limited amount of funding available through the FACTS financial aid program on a first-come, first-serve basis. We also accept the following scholarships:
Step Up For Students- This scholarship program provides legislatively authorized Tax Credit K-12 scholarships and related support to give those families that qualify the freedom to choose the best learning options for their children. These scholarships allow students to consider a participating private school or an out-of-district public school that may better suit their individual needs. This choice is not based on whether the public school is judged as succeeding or failing. Rather, it recognizes that different children learn in different ways and that the goal is to help those students attend the institution of their choice that best suits their educational needs.
Please click HERE to visit the Step Up for Students website for more information.
Gardiner Scholarship- This scholarship program helps parents individualize the educational plans for their children with certain special needs. The Gardiner Scholarship is different from other state scholarships in that it allows parents to personalize the education of their children with unique abilities by directing money toward a combination of programs and approved providers. These include schools, therapists, specialists, curriculum, technology — even a college savings account.
Please click HERE to visit the Gardiner Scholarship web page for more information.
McKay Scholarship- The McKay Scholarship Program for Students with Disabilities provides over 31,000 Florida students with special needs the opportunity to attend a participating private school during the current school year.
Please click HERE to visit the McKay Scholarship web page for more information.
Hope Scholarship- Beginning in the 2018-2019 school year, a student enrolled in a Florida public school in kindergarten through grade twelve who has been subjected to an incident of battery; harassment; hazing; bullying; kidnapping; physical attack; robbery; sexual offenses, harassment, assault, or battery; threat or intimidation; or fighting at school the opportunity to transfer to another public school with capacity or enroll in an approved private school under the Hope Scholarship.
Please click HERE to visit the Hope Scholarship web page for more information.
*All scholarship information is taken directly from the above websites.
Oasis Christian Academy admits students of any race, color, national, or ethnic origin to all the rights, privileges, programs, and activities generally accorded or made available to the students of the school. It does not discriminate on the basis of race, color, national, or ethnic origin in administration of its educational policies, scholarships, financial programs, or athletic and other school-administered programs.
S

unday

M

onday

T

uesday

W

ednesday

T

hursday

F

riday

S

aturday