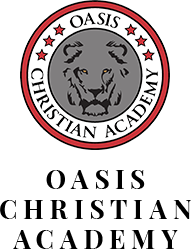 3rd Grade
Overview
In 3rd grade, students at OCA are expected to have a solid grasp on a number of concepts in all core subjects, including Bible. With this understanding, our 3rd graders will begin to delve into more complex topics that will require them to analyze the material even further and begin to gain critical thinking skills as they become more independent learners.
Bible
We continue with Purposeful Design as our curriculum. 3rd-graders study and recite weekly Bible verses to reinforce the teachings of Scripture. Our Bible curriculum concentrates on the Parables of Jesus, the fall of man and God's redemptive plan, the Life of Christ, the Early Church, and the missionary journeys of the Apostle Paul.
Reading
We emphasize reading aloud with our 3rd graders to ensure grade-level fluency; we continue using novels to explore the vast world of literature and its many themes and ideas. School library visits each week allow students to take an active role in their fluency and comprehension.
Math
We continue with the Bob Jones University curriculum in 3rd grade, which primarily focuses on multiplication and division of two and three-digit numbers, fractions, and measurement. Each new concept is taught as a whole group using direct instruction and reinforced in group learning through differentiated instruction. Technology is applied through learning sites such as BrainPop, MobyMax, RocketMath, and Starfall.
Language Arts
Language arts primarily focuses on employing the skills and concepts from previous grades to publish writings such as personal narratives, opinions, poems, and informational reports using grade-appropriate language, spelling, and grammar. We continue to present information orally according to the Oral Presentation Guidelines properly. Finally, iPads apps during computer time are used to reinforce learned skills.
Science
In 3rd grade at OCA, use Bob Jones University curriculum to study states and properties of matter, motion, electricity, magnetics, and the solar system along with the role of the United States in its exploration.
History/Geography
We continue with the Bob Jones curriculum to study and focus on the natural resources of and currencies of North America, along with its geography, the role of government at the national, state, and local levels, the different branches of our national government, and the U.S. Constitution.
By the end of 3rd grade, students will:
Bible
Demonstrate Christian virtues and explain why as Christians, we should show these
Know the Bible as the Word of God
Know ways to grow in our faith, demonstrate love for others, and share the Gospel
Memorize key passages of Scripture, and know ways to apply them
Worship God through music, prayer, and study of His word
Reading
Consistently spell assigned pattern and high frequency words

Fluently read and comprehend texts at a third grade level

Read with sufficient accuracy and fluency to support comprehension
Math
Read, write, and compare numbers through the hundred thousands
Correctly add and subtract up to three-digit numbers with and without regrouping
Read, interpret, and create data graphs such as: tally charts, pictographs, bar graphs, line graphs, etc.
Tell time to the nearest half-hour and quarter-hour and determine elapsed time when given a beginning and ending time
Memorize multiplication/division facts through the 9's
Multiply one-digit numbers by two-digit numbers
Divide 2-digit numbers by one-digit numbers with and without remainders
Identify congruent and symmetrical figures
Find perimeter and area of polygons
Estimate and measure lengths, weights, volumes, and temperatures
Express probability using given data
Identify, compare, estimate, and read fractional parts
Add and subtract fractions with the same denominator
Language Arts
Develop and publish writings such as personal narratives, opinions, poems, and informational reports using grade appropriate language, spelling, and grammar.
Legibly write words in cursive
Orally present information according to Oral Presentation Guidelines
Identify the parts of speech (nouns, verbs, adjectives, adverbs, and pronouns)
Science
Identify the parts and functions of a plant
Identify matter by its properties and distinguish between its three states
Define motion terms: linear, rotational, periodic
Explain how electricity flows through a current and classify insulators and conductors
Identify different types of magnets and their usefulness to mankind
Identify and describe rocks and minerals by their physical properties
Identify and label different landforms and explain how sudden and gradual changes affect the earth's surface
Name the planets in order
Identify the sun as the center of the solar system
Describe the history of the U.S.'s exploration of space and its importance
History
Identify natural resources and currencies of the countries of North America
Identify group and individual actions of citizens that demonstrate civic virtues
Distinguish between different types of communities
Define vocabulary such as: producers, consumers, services, natural resources, volunteers, etc.
Describe the role of government at the national, state, and local level
Identify the three branches of government
Recognize the constitution as the basis for the U.S. government
Identify major U.S. landmarks
Label the continents and oceans on a map
Identify and label the 50 U.S. states
Label the countries of North America
Explore how different cultures have influenced the U.S.
Calendar
S

unday

M

onday

T

uesday

W

ednesday

T

hursday

F

riday

S

aturday