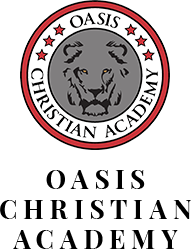 1. Is your school accredited?
We are fully accredited by ACSI (Association of Christian Schools International) and are a member of FHSAA (Florida High School Athletic Association.
2. What are your school hours?
Currently, our school hours are as follows:
K3 & VPK 8:00am- 11:10am and 12:20pm- 3:30pm
K5-8th 7:45am- 2:45pm
9th-12th 8:00am- 3:10pm
3. How do you keep your campuses secure?
We employ an academy-wide guardian. We have security cameras at all campuses and all exterior doors are locked and secure at all times. All entrances into the academy are monitored at all times. All visitors are observed and granted entry upon recognition as a stakeholder or as an approved visitor or vendor.
4. Do you offer VPK?
5. How much does it cost to attend Oasis?
While our educational program is unique, our tuition rates are competitive with other area schools. Please visit our
Tuition page
for our tuition costs BEFORE any potential scholarships and/or discounts have been applied.
6. Does OCA have a dress code?
Yes; while our dress code does not require uniforms, it does emphasize uniformity. Please visit our
Dress Code page
to view our dress codes for Preschool, Elementary, Middle School, and High School.
7. What does tuition include?
Our tuition includes the cost of a basic education here at OCA. Our enrichment fee covers a yearbook for each student, field trips, a field trip shirt for students in K5-8th grade, technology, transportation, and special events.
Please visit our Tuition page for more information.
8. What sports options do you offer?
We offer cross-country, volleyball, beach volleyball, golf, football, basketball, cheerleading, soccer, softball, baseball, & track & field.
9. At what age can my child participate in sports?
For cross country, competitive athletic opportunities begin in 3rd grade, opportunities for golf & baseball are available beginning in 7th grade, opportunities for football begin in 8th grade, and for all other sports competitive athletic opportunities begin in 6th grade.
10. Is there financial aid/ or scholarships available?
We accept the following scholarships at OCA: stepupforstudents.org (including, FTC, Gardiner, and Hope), and the McKay scholarship. In addition, we have limited funds available through the FACTS financial aid program. Please visit our
Financial Aid Information page
for more information.
11. Do you have any special programs for my child's grade level?
We have programs multiple times a year for all grade levels beginning in Early Education and continuing through 12th grade, including graduation programs for K5 and 12th grades, and End of the Year Programs/Awards Assemblies for all grades. Please visit our
Calendar page
for specific dates and times.
12. What are the class sizes at OCA?
The maximum number of students in our VPK class is 8, and in all other classes is 22. Most classes range from 13-18 students.
13. Are there special needs classes?
We are equipped to offer services to children with certain mild learning challenges. IEP or 504 Plans will need to be reviewed by the administration in order to determine if we are equipped to meet the needs of your ESE child. It is our goal to understand and enrich the learning style of each student here at OCA.
14. Do you have extended care options?
Extended care options for 2020-2021 will be as follows:
For students in K3 through 12th grade, we have early care each morning beginning at 7:00 am.

For students in K3 and K4, we will offer after-school care until 5:30 pm if we have enough families needing it.

For students in K5 through 8th grade, we have after-school care until 5:30 pm.

There is no after-school care program available for 9th through 12th grade.
15. Do you have a hot lunch program?
In 2020-2021, we will offer hot lunch options each day supplied by local restaurants for all grades beginning in K5 grade; K3 and K4 (VPK) bring their lunch from home. The lunch program is voluntary. Students can pack their lunch daily and we have microwaves available.
16. What is your grading scale?
The grading scale at OCA is as follows:
100-90 A
89-80 B
79-70 C
69-60 D
17. Does OCA offer AP, Honors courses, and/or Dual Enrolled courses?
Currently, we offer Honors courses in English and science, with plans to expand the Advanced Placement program into our math, science, and history departments in the coming school years. We do offer a weighted GPA scale for Honors and College Level courses taken. We embrace dual enrollment for our high school students, and partner with multiple local colleges and trade schools.
18. Is your school ethnically diverse?
Yes, our student population closely emulates the demographics of the 2010 Polk County census. We celebrate diversity at OCA.
19. How is technology utilized in the classroom?
The digital environment at OCA is both robust and secure for our 21st -century learners. We employ Smart Boards and Apple TV's in our classrooms; our students have access to iPads, Kindle Fires, MacBook Pros, and Windows-based laptops that can be checked out to an entire classroom to enhance the learning environment. We also have Clear Touch devices on both the Elem/Middle School and High School campuses.
20. What electives do you offer?
We offer a variety of electives in our high school academies that vary each semester ranging from guitar to mythology to art to robotics to business law to child development to agriculture.
21. Where are you located?
22. Is there required testing; what kind and for how long?
We do not administer the FSA at Oasis Christian Academy, but we do believe in the value of outside testing in order to assess students' progress. We use IOWA Testing for K-2nd grade, and the ACT Aspire for 3rd grade- 10th grade each Spring covering approximately three days. 11th grade takes the ACT on campus each Spring as well.
23. How does the application process work?
Our application process is all online. Please visit our
Admissions page
to get started. If at any time you have any questions please feel free to call the academy at (863) 293-0930 or email us at
questions@ocalions.org
; we are happy to help.
S

unday

M

onday

T

uesday

W

ednesday

T

hursday

F

riday

S

aturday