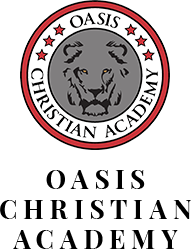 OCA is an excellent place to work and is always looking for quality, dedicated individuals to join our pride! If you are interested in obtaining a faculty or staff position at Oasis Christian Academy, please see the information below.
If you have questions, please contact our offices at 863-293-0930.
Faculty Positions
Job Title: Faculty (4th grade)
Job Description: Oasis Christian Academy is looking for a qualified individual to teach our students in 4th grade in a full-time capacity.
Job Responsibilities:

Demonstrates academic competence in subject areas, and displays an inclination for developing integrated and work across the curriculum.
Maintains a growth mindset toward student learning, teaching practice, and personal/collective professional development.
Serves as a role model and an innovative and creative learner with an insatiable thirst for knowledge, personal growth, and being on the cutting edge of instructional practice and pedagogy.
Collaborates effectively with a variety of stakeholder groups within the organization and with external partners to increase student performance and contribute to advancing the teaching and learning craft.
Invests in the learners' well-being, health, and safety, physically, socially, and emotionally.
Recognizes the relationship between social-emotional learning and academic performance and aspires toward developing and teaching the whole child.

Teacher Qualifications/Skills:

Knowledge of instructional methods appropriate for students at the respective grade level.
Desire and ability to work with students at the specified age level with diverse backgrounds and levels of ability toward accomplishing their educational goals.
Ability to organize tasks and manage time to meet many and varied deadlines.
Manage both small and large student groups in a classroom environment
Communicate effectively with students, parents, school administrators, and other staff.

Job Requirements:

Bachelor's or Master's Degree in education or related field
Recent teaching experience, coursework, or other activity in area of primary instruction
Demonstrates knowledge of current instructional strategies appropriate for students at the specified grade level

Please email any interest or your resume to Tawn Jones (tjones@ocalions.org).
Faculty Aide Positions
Currently, all positions have been filled.
Staff Positions
Part-time Bus Driver (CDL Required)
Please email any interest and/or your resume to Cara Gall (cgall@ocalions.org).
Coaching Positions
Currently, all positions have been filled.
Substitute Positions
Substitutes for our faculty, staff, and bus drivers play an important role at OCA. When a faculty or staff member is unwell or away due to obligations elsewhere, it is vital that the academy make every effort to keep our day moving forward in spite of an employee absence. Substitute applications are processed throughout the school year in order to add to our current pool of existing substitutes. If you are interested in a substitute position at OCA, please submit your resume to info@ocalions.org.