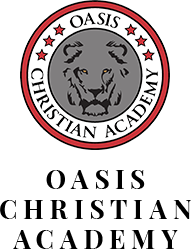 Our administration team is committed to the fulfillment of the academy mission and enthusiastic about assisting all stakeholders in achieving their highest potential.
Anthony Campbell
Head of School
Mr. Campbell has been a Christian school educator for 30 years. He earned his M.Ed. degree from the University of South Florida and his BS degree from Palm Beach Atlantic University. Prior to coming to Oasis Christian Academy, he has served as the Head of School, an Assistant Principal, the Director of Instructional Technology, a Computer Science teacher, a middle school History, Science, and Math teacher, an Elementary School Coordinator, and worked as an Instructional Coach on a math research study for Southern Methodist University.
Mr. Campbell is the husband of Dr. Laurie O. Campbell, a professor at the University of Central Florida, and the father to Stephen Campbell, a deputy with the Hillsboro County Sheriff's Department.
Mr. Campbell's servant's heart, humility, intellect, integrity, and confidence are a powerful combination. At his core, Mr. Campbell is a teacher who is committed to academic excellence and the student experience. He recognizes that a student is more than a GPA and the importance spirituality plays in the development of the whole child. He seeks to bring out the best in others by investing heartily in their development and helping them realize their full potential, recognizing that strong academics, blended with a heart for Christ, will make OCA students ready to be leaders in whatever arena God places them. Simply put, Mr. Campbell is a servant leader with the vision and skillset to lead OCA into the future confidently.
Michael Shannon
Business Administrator/ Registrar
Michael brings a structure and calm-orderliness to the Academy that is invaluable. As Quality Assurance Manager, he ensures that everything we do is done with excellence and that best practices are followed.
B.S. Business Administration (Harris University)
Masters in Biblical Theology (Harris University)
Masters in Applied Science (Harris University)
ACSI Certified
4 years of teaching experience
7 years at OCA
2017 Life Saver Award Recipient
2019 Pam Gall Award for Superior Achievement recipient
2023 Commitment to Excellence Award recipient

Teresa Wilson
Early Education Director
Teresa heads up our VPK program. She provides a warm and stable atmosphere for the little ones in her care. Her hands-on approach to instruction and love for teaching is evident in our early education department.
Tawn Jones
Elementary Principal
As our elementary principal, Tawn oversees our Kindergarten- 5th-grade teachers and students and assures that our academic and discipline standards are met with excellence. Her calm and compassionate approach to discipline allows our students to express themselves in a safe and empathetic environment. She strives to lead with integrity and model Christ-like behavior in all she does.
Marianne Herlocker
Secondary Principal
This is Marianne's second year as our Secondary Principal. Her goal is to help equip students with a Godly worldview and instill in them the desire to serve God, to have integrity, and to gain practical skills that will help them succeed after leaving OCA.
Juan Ayala
Athletic Director
We are thrilled to have Coach Ayala on our team here at OCA. His love of sports and coaching, in particular, has translated wonderfully to his position here with us. Aside from being our Athletic Director, he is also the head coach for our e-sports and baseball teams.
Pamela Mascioli
Fine Arts Director
Pam provides an integral component of our students' education, Fine Arts. She is an experienced Drama teacher and has directed multiple plays and run a theatre summer camp. She also has over 20 years of experience as a co-op teacher. Her love for the arts is evident in the way she highlights music and theater with our students.
Cara Gall
Director of Operation, Support, & Communication/ Head Librarian
Cara plays an integral role in the organization of the Academy. As our librarian, she is always looking for new ways to inspire a love of reading through multiple platforms across all ages, as well as how to search for information in the digital age. As our Director of Operations and Human Resources oversight, she ensures that the many "moving parts" of the Academy operate as smoothly and effectively as possible in order to promote overarching "best practices" for OCA. Additionally, Cara oversees the lunchroom staff, office staff, and many components of the auxiliary staff.
S

unday

M

onday

T

uesday

W

ednesday

T

hursday

F

riday

S

aturday