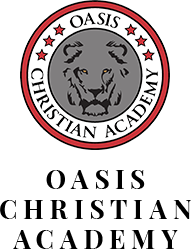 High school is a pivotal time in the lives of our students. It is an essential time to focus on preparation for college as well as adulthood. The process begins in eighth grade with the placement of your students in one of three academic tracks that will focus on a specific college prep program. Students also have the opportunity to enroll in multiple elective academies to begin exploring post-high school educational options and careers. All of our high school students take the PSAT, PLAN, SAT, and ACT as part of their academic requirements. Prep classes for these tests are offered as electives periodically. The process that starts in middle school then culminates at graduation with our students stepping out into the world prepared to live the life to which the Lord calls them.
High school guidance here at OCA has two components. The first is keeping parents abreast of the student's academic progress. The second is preparing them for placement in a college or university. This is accomplished through:
Challenging classes
Prep tests for the SAT and ACT (PSAT and PLAN)
Building a college resumè (including personal essays, and teacher recommendations)
Understanding the importance of their GPA
College Fairs
Community service hours
Preparing for CLEP tests
Scholarship Applications
Completing the FAFSA
Students in each grade level have the opportunity to enroll in a variety of career-minded academies that allow them to explore different career paths for their futures.
Oasis Christian Academy's High School is comprised of four grade levels:
Please click on the links above to view and peruse each grade's objectives and our career academies.
Calendar
S

unday

M

onday

T

uesday

W

ednesday

T

hursday

F

riday

S

aturday