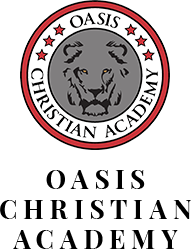 We are happy to welcome visitors on-campus to eat lunch with their students. Visitors must complete the following form at least 24-hours in advance to eat with students. Please note that all visitors must be listed on their student's pick-up list, and must also have a current OCA background check on file with the Academy to eat lunch with students beyond the foyer area. Background checks are valid for five years.


Guidance documents will be updated in the Fall and Spring. If you have any questions, please email Mr. Shannon at registrar@ocalions.org.
Click HERE for Documents



OCA is thrilled to announce that in the coming months we will have a brand new multi-purpose building added to our main campus!! Click HERE for more information and project updates.

We know that parents have many choices to make as their students return to school in this ever-changing time. We all want to make choices that are best for our children, and Oasis Christian Academy wants that as well. For more information please give us a call at 863-293-0930 or email us at info@ocalions.org and we will be happy to walk you through all that OCA has to offer.

We hope you enjoy perusing our site and learning all about who we are, what we do, and why we do it! If you have any questions or would like more information, please contact us at info@ocalions.org. GO LIONS! Oasis Strong!