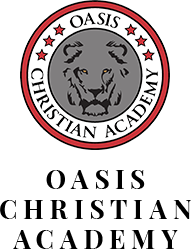 Career Academies
Oasis Christian Academy is proud to offer multiple Career Academies that allow our high school students to experience a multitude of potential vocations. Once enrolled in an Academy, students will have the school year to explore different facets of that vocation to help determine if it could be something the Lord is calling them towards. If not, then they can apply for a different Academy the following year taking with them valuable insight and lessons learned.
ACADEMIES
Fine Arts
Academy
Overview
The Fine Arts Academy provides students with opportunities to develop both performing and non-performing arts skills related to music, drama, and visual arts. This year-long course will consist of a multi-arts focus. Students will learn basic music/acoustic guitar skills, plan and/or participate in OCAs chapel worship band and sound production, learn the fundamentals of drama; including budgeting, planning and set building, acting, singing, and choreography. Basic visual art forms, such as painting, drawing, printmaking, sculpture, crafts, and architecture will be introduced, and students will move at their own pace to complete a visual arts portfolio. Students will experience all aspects of the arts identified in the Fine Arts Academy and will work at their skill level as they support a fall and spring student production.
Potential Career choices: Worship Pastor, Actor, Visual Artist
Class List:
Music
Drama
Choreography
Visual Arts
Business
Academy
Overview
The Business Academy provides students with an overview of the business world and an understanding of basic concepts necessary to become a successful businessperson. Students will explore the state and federal laws governing commerce and trade, the effects United States laws have on small and large businesses, and how to manage and market a business. Students are encouraged to participate in OCA's DECA program and/or gain work experience as they explore hard/soft job skills, job interests, and secure a job of their choice in order to gain work experience.
Potential Career choices: Social Media, Financial Consultant, Business Owner
Class List:
Intro to Business
Accounting
Business Law
Business Management
Marketing
Practical Ministries Academy
Overview
As a Christ-follower, we are commissioned to spread the gospel. How does that translate into daily living and the individual call to service whether in full or part-time ministry or as a volunteer in their local church community?
Students enrolled in the Practical Ministry Academy will be introduced to the concept of ministry as a life skill, the concept of God's call and your commitment, multiple ministry opportunities at home and abroad, and how to plan a ministry based on what they believe is their area of interest. This is an interactive Academy designed to promote practical spiritual growth.
Potential Career Choices: Pastor - Children, Youth, or Adults, Missions, Camp Director
Class List:
Intro. to Ministries
Calling & Commitment
Ministry: Home & Abroad
Planning a Ministry
Web Application and Development Academy
Overview
Using online coursework, students will master the universe of technology as they learn basic computer skills, such as Microsoft Word, Excel, and PowerPoint. Students will learn how to design their own web pages and presentations with creativity and their personal brand. Throughout the course, students will practice career skills and strategies to help them pursue the job of their choice.
Learn the ins and outs of becoming a programmer; practice coding skills, debug programs, write interactive code, and gain an understanding of how the world of programing affects us daily and how to land a job as a programmer. Finally, use the language of Python to develop advanced programming concepts. Students will learn techniques and processes to program and develop software.
Potential Career choices: Web Designer, Programmer, Coding
Class List:
Digital Information Technology
Foundations of Programming
Procedural Programming
Communication
Academy
Overview
This Academy will focus on learning the art of connecting ideas and people through various forms of communication. Whether creating content for traditional or digital media platforms, students will acquire the skills to craft and communicate a message. This course will provide students with a theoretical background and hands-on application. Students will utilize both audio and visual communication skills to produce newsletters, video announcements, and post to various social media platforms.
Potential Career Choices: Public Relations, Social Media Manager, Meeting/Event Planner, Brand Manager

Class List:
Audio/Visual Communication
Filmmaking
Current Media Platforms
Behavioral Sciences
Academy
Overview
The Behavioral Science Academy will explore Psychology and Sociology related to the study of human behavior. Students will examine cognition and the human mind as they explore the research and theories of some of the most prominent psychologists/theorists in history. Projects based learning opportunities and hands-on experiments will serve to enhance course content.
As you gain an understanding of how groups interact and the impact group interaction has on individuals and collectivists societies, you will have a greater awareness of the beliefs, values, and behavior patterns of others. Students will be better prepared for an interdependent world; recognizing how group behavior affects both the individual and society. Other topics of study include: human growth and development, theories of personality, memory, abnormal behavior and therapies, and useful stress/coping strategies for life.
Potential Career choices: Psychologist, Social Worker, Criminal Justice
Class List:
Calendar
S

unday

M

onday

T

uesday

W

ednesday

T

hursday

F

riday

S

aturday