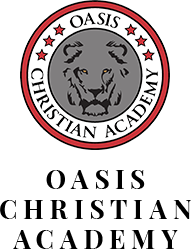 The school board of OCA works tirelessly to ensure the mission of Oasis Christian Academy. As an independent entity unaffiliated with any specific ministries, our school board is a vital component of the academy. They bring a diverse and varied insight, as the Lord has called them from different walks of life. While board members are volunteers, they are intrinsically involved in overseeing and confirming best practices throughout OCA.
Our mission is to preserve our history, clearly defining where we came from and following God's plan for the Academy's future. We will seek God's plan for the future of Oasis Christian Academy by continually being in prayer, reading and studying his word, and listening to Him. We believe in being committed to excellence in education by maximizing available resources and understanding our proper role in overseeing Oasis Christian Academy with openness and integrity. We are committed to the Oasis family we serve by providing guidance, support, and encouragement to all stakeholders, striving to honor God with each interaction, and working for the individuals, families, and school as a whole.
"Without consultation, plans are frustrated, But with many counselors they succeed."- Proverbs 15:22 (NASB)
Tammy Moore (Board Co-Chairperson)
Business Analyst
Tammy is very passionate about Christian education, and is honored to serve OCA administration, faculty, staff, and families to provide remarkable education while teaching our students to be a Light for the Kingdom of God. There is no better school for Christian education.
She and her husband Mike have been a part of OCA for over 20 years. Both of their children attended OCA from K3-12th grade. They are Lions to the core. GO LIONS!
Lynn Polston (Board Treasurer)
Insurance Agent
Lynn Polston is originally from Connecticut. She relocated to the Winter Haven area when she was 18. She has been married to her husband David for 16 years, and has the privilege of raising their 8-year-old granddaughter who attends Oasis. She is the owner of an Insurance Agency since 2017, and prior to that she was a Licensed banker.
Lynn loves this school, and want to see it succeed and grow for many more years to come. Lynn believes It gives kids a great place to learn and develop into successful young men and women with a strong Christian foundation that will help them through life. She feels strongly about Christian education, and wishes every child could have the opportunity to attend this type of school. Johnathan Bilbrey (Board Member) Robyn Pospichal (Board Member)
Calendar
S

unday

M

onday

T

uesday

W

ednesday

T

hursday

F

riday

S

aturday